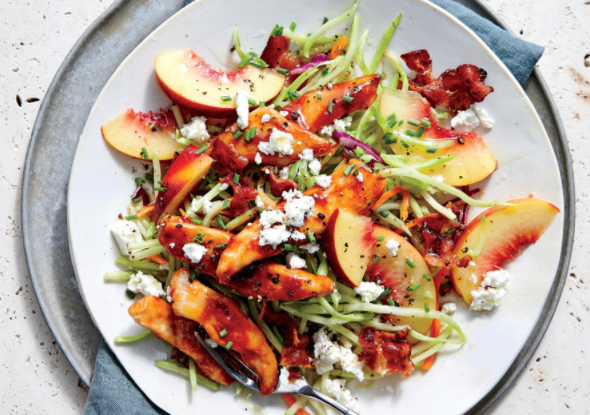 Take a look at this month's featured recipe! For June 2017 our featured healthy recipe is Barbecue Chicken Peach Feta Slaw! Here's how to make this delicious side! Ingredients: 5 tablespoons olive oil, divided 2 tablespoons sherry vinegar 1/2 teaspoon freshly ground black pepper, divided 3/8 teaspoon kosher salt, divided 1 1/2 cups sliced fresh peaches (about 2 medium) 1 (12-oz.) pkg. broccoli slaw 3 (6-oz.) skinless, boneless chicken breasts, cut crosswise into 1-in. strips 1/4 cup barbecue sauce 1 tablespoon chopped fresh chives 1 ounce feta cheese, crumbled (about 1/4 cup) 2 center-cut bacon slices, cooked and crumbled Preparation: Combine 4 tablespoons oil, vinegar, 1/4 teaspoon pepper, and 1/4 teaspoon salt in a large bowl, stirring with a whisk. Add peaches and slaw to vinegar mixture; toss gently to coat. Sprinkle chicken evenly with remaining 1/4 teaspoon pepper and remaining 1/8 teaspoon salt. Heat remaining 1 tablespoon oil in a large nonstick skillet over medium-high heat. Add chicken to pan; cook 6 minutes or until done. Place chicken in a large bowl. Add barbecue sauce to bowl; toss. Divide slaw mixture evenly among 4 plates; top evenly with chicken strips. Sprinkle with chives, feta, and bacon.
Ingredients: 3 teaspoons extra-virgin olive oil, divided 1 small onion, finely chopped 1 stalk celery, finely diced 2 tablespoons chopped fresh parsley 15 ounces canned salmon, drained, or 1½ cups cooked salmon 1 large egg, lightly beaten 1½ teaspoons Dijon mustard 1¾ cups fresh whole-wheat breadcrumbs, (see Tip) ½ teaspoon freshly ground pepper Creamy Dill Sauce, (recipe follows) 1 lemon, cut into wedges Preparation: Preheat oven to 450°F. Coat a baking sheet with cooking spray. Heat 1½ teaspoons oil in a large nonstick skillet over medium-high heat. Add onion and celery; cook, stirring, until softened, about 3 minutes. Stir in parsley; remove from the heat. Place salmon in a medium bowl. Flake apart with a fork; remove any bones and skin. Add egg and mustard; mix well. Add the onion mixture, breadcrumbs and pepper; mix well. Shape the mixture into 8 patties, about 2½ inches wide. Heat remaining 1½ teaspoons oil in the pan over medium heat. Add 4 patties and cook until the undersides are golden, 2 to 3 minutes. Using a wide spatula, turn them over onto the prepared baking sheet. Repeat with the remaining patties. Bake the salmon cakes until golden on top and heated through, 15 Read More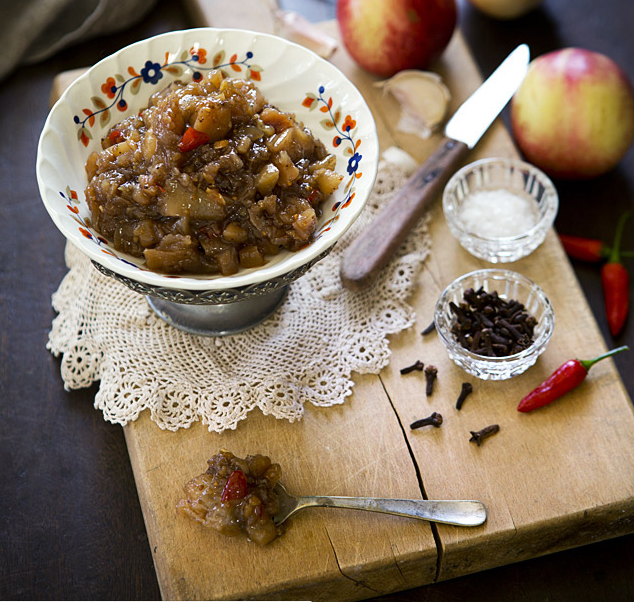 NJ Top Docs Presents March's Featured Healthy Recipe: Spicy White Nectarine Chutney Ingredients: 1 kilo (approx. 2 pounds) firm white nectarines, chopped into small pieces 1 medium onion, chopped finely 6 cloves of garlic, crushed or chopped finely 3 small red chilli's, chopped finely ¾ cup sugar ½ cup cider vinegar 2 tablespoons olive oil 2 tablespoons grated ginger 1 teaspoon brown mustard seeds 1 teaspoon salt ½ teaspoon ground cloves Method: 1. Heat the oil over medium heat in a heavy bottom cast iron pan. Once oil is hot add the mustard seeds and stir until they start popping. Add the ground cloves, ginger, chilli and garlic and cook until mixture is very fragrant (approx. 2 minutes). 2. Add the nectarine pieces and onion to the pot and cook stirring for 5-10 minutes then add the cider vinegar, sugar and salt. Continue stirring for another couple of minutes. 3. Cook for around 90 minutes stirring at regular intervals until the chutney becomes jammy and caramelized. It will turn a lovely brown-honey colour and the fruit will be soft. The flavours develop further upon standing. Spoon into sterilized jars.
Ingredients: 3 whole ancho chiles 3 whole pasilla chiles 4 cloves garlic, unpeeled 2 to 3 chipotles in adobo sauce 1/2 medium white onion, roughly chopped 3 tablespoons extra-virgin olive oil 2 tablespoons honey 1 tablespoon cider vinegar Kosher salt 2 teaspoons dried oregano, preferably Mexican 3 3/4 cups low-sodium chicken broth 4 pounds boneless pork shoulder (untrimmed), cut into chunks Freshly ground pepper 2 bay leaves 1 cinnamon stick Corn tortillas, warmed, for serving Assorted taco toppings, for garnish Instructions: Put the ancho and pasilla chiles and the garlic in a bowl; add 2 to 3 tablespoons water. Microwave on high until soft and pliable, 2 to 3 minutes. Stem and seed the chiles; peel the garlic. Transfer the chiles and garlic to a blender. Add the chipotles, onion, 2 tablespoons olive oil, honey, vinegar, 1 tablespoon salt and the oregano to the blender; puree until smooth. Heat the remaining 1 tablespoon oil in a large skillet over high heat; add the chile sauce and fry, stirring, until thick and fragrant, about 8 minutes. Pour in the broth and reduce until slightly thickened. Season the pork all over with salt and pepper and transfer to a large slow cooker. Read More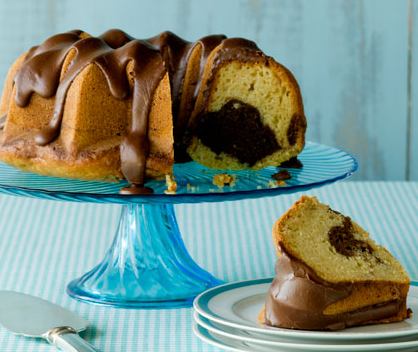 Ingredients (Cake): Baking spray with flour 1 2/3 cups all-purpose or cake flour 2/3 cup whole-wheat pastry flour 1 1/2 teaspoons baking powder 1/2 teaspoon baking soda 1/4 teaspoon salt 1 cup plus 1 tablespoon sugar, divided 1 cup light sour cream 1/2 cup plain almond milk 1/2 cup applesauce 1/3 cup melted unsalted butter 2 eggs 2 egg whites 1 1/2 teaspoons pure vanilla extract 1 ounce unsweetened chocolate, melted 1 tablespoon unsweetened cocoa powder Ingredients (Glaze): 1/2 cup powdered sugar 1 tablespoon melted unsalted butter 1 tablespoon warm water 1 tablespoon unsweetened cocoa Directions: Preheat oven to 350 degrees F. Coat a 10-inch Bundt cake pan with spray. Combine flours, baking powder, baking soda, salt, and 1 cup sugar in a large bowl. Whisk next 7 ingredients (through vanilla) in another large bowl until blended. Add to the dry ingredients and stir with a spatula until just combined. Transfer 3/4 cup batter to a small bowl and whisk in chocolate, cocoa, and remaining 1 tablespoon sugar. Pour 3 cups white batter into prepared pan. Dollop chocolate batter over white batter; cover with remaining white batter. Using a knife, swirl batter once in a continuous S – shape around Read More
October Healthy Recipe: Buffalo Chicken Casserole Ingredients: 12 ounces whole-wheat elbow noodles 2 tablespoons canola oil 3 medium carrots, sliced 3 medium stalks celery, sliced 1 large onion, chopped 1 tablespoon minced garlic 2 pounds boneless, skinless chicken breast, trimmed and cut into 1-inch cubes 1/3 cup cornstarch 4 cups low fat milk 1/8 teaspoon salt 5 tablespoons hot sauce, preferably Frank's RedHot 3/4 cup crumbled blue cheese (about 4 ounces) Directions Preheat oven to 400 degrees F Bring a Dutch oven of water to a boil. Cook noodles until barely tender, about 2 minutes less than package directions. Drain, rinse, and set aside. Heat oil in the pot over medium heat. Add carrots, celery, onion and garlic and cook until beginning to soften, about 5 minutes. Add chicken and cook until no longer pink on the outside, 5 to 7 minutes. Whisk cornstarch and milk in a medium bowl; add to the pot along with salt. Bring to a boil over medium-high heat, stirring often, until bubbling and thick enough to coat the back of a spoon, about 4 minutes. Remove from the heat and stir in hot sauce. Spread the noodles in a 9-by-13-inch (or similar 3-quart) baking Read More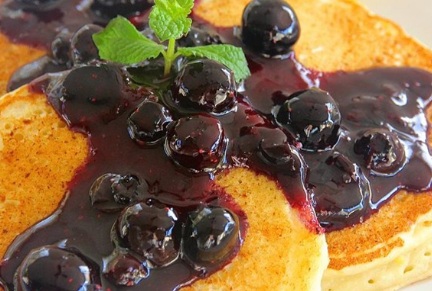 August Healthy Recipe: Lemon Ricotta Pancakes! Ingredients 2 tablespoons lemon juice 1 tablespoon cornstarch 2 cups frozen blueberries 3 tablespoons white sugar 1 cup ricotta cheese 2/3 cup milk 2 eggs 3 tablespoons white sugar 1 lemon, juiced and zested 1/2 teaspoon ground nutmeg 1/4 teaspoon salt 1 cup all-purpose flour 1 tablespoon baking powder Directions Mix 2 tablespoons lemon juice and cornstarch together in a bowl until cornstarch dissolves. Stir blueberries and  tablespoons sugar in a saucepan over medium-high heat.  Bring to a boil; reduce heat to low an simmer for 5 minutes.  Pour cornstarch mixture into blueberry mixture;  cook and stir until mixture thickens slightly. Cover saucepan and remove from heat. Whisk ricotta cheese, milk, eggs, sugar, juice from 1 lemon, lemon zest, nutmeg, and salt together in a bowl until well blended.  Add flour and baking powder; whisk to combine. Heat a light oiled griddle or skillet over medium-high heat.  Drop batter in a 1/4 cup portions onto the griddle and cook until bubbles form and the edges are dry.  Flip and cook until browned on the other side.  Repeat with remaining batter.  Top pancakes with blueberry sauce.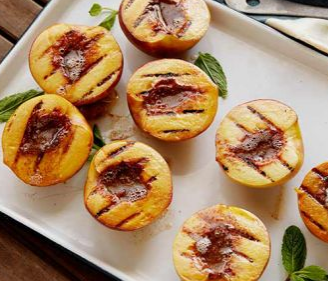 NJ Top Docs Presents July 2016 Healthy Recipe: Grilled Peaches Ingredients: 1 stick unsalted butter, at room temperature 1 teaspoon cinnamon sugar 2 tablespoons granulated sugar pinch salt 4 ripe peaches, halved and pitted canola oil mint leaves, for garnish Directions: In a small bowl add the butter and stir until smooth. Add the cinnamon sugar, granulated sugar and salt and mix until combined. Heat grill to high. Brush peaches with oil and grill until golden brown and just cooked through. Top each with a few teaspoons of the butter and garnish with mint leaves. Recipe courtesy of Bobby Flay Read more at: http://www.foodnetwork.com/recipes/bobby-flay/grilled-peaches-with-cinnamon-sugar-butter-recipe.html?oc=linkback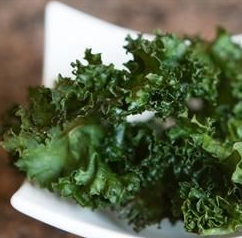 This month's featured healthy recipe is Baked Kale Chips! A perfect light snack or a simple side dish to pair with dinner for June 2016. Ingredients: 1 Bunch Kale 1 Tablespoon Olive Oil 1 Teaspoon Seasoned Salt Directions: Preheat an oven to 350 degrees F (175 degrees C). Line a non insulated cookie sheet with parchment paper. With a knife or kitchen shears carefully remove the leaves from the thick stems and tear into bite size pieces. Wash and thoroughly dry kale with a salad spinner. Drizzle kale with olive oil and sprinkle with seasoning salt. Bake until the edges brown but are not burnt, 10 to 15 minutes.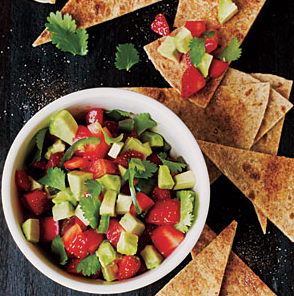 April's Healthy Recipe: Strawberry Avocado Salsa with Cinnamon Tortilla Chips Ingredients 2 teaspoons canola oil 6 (6-inch) whole-wheat flour tortillas 2 teaspoons sugar 1/2 teaspoon ground cinnamon 1 1/2 cups finely chopped peeled ripe avocado (about 2) 1 cup finely chopped strawberries 2 tablespoons minced fresh cilantro 1 teaspoon minced seeded jalapeño pepper 2 teaspoons fresh lime juice 3/8 teaspoon salt Preparation Preheat oven to 350°. To prepare chips, brush oil evenly over one side of each tortilla. Combine sugar and cinnamon; sprinkle evenly over oil-coated sides of tortillas. Cut each tortilla into 12 wedges; arrange wedges in a single layer on two baking sheets. Bake at 350° for 10 minutes or until crisp. Combine avocado and remaining ingredients; stir gently to combine. Serve with chips.