June's Featured Healthy Recipe: BBQ Chicken with Peach and Feta Slaw
Take a look at this month's featured recipe! For June 2017 our featured healthy recipe is Barbecue Chicken Peach Feta Slaw!
Here's how to make this delicious side!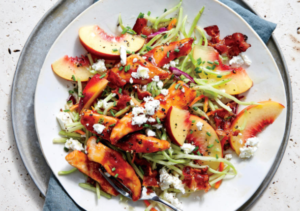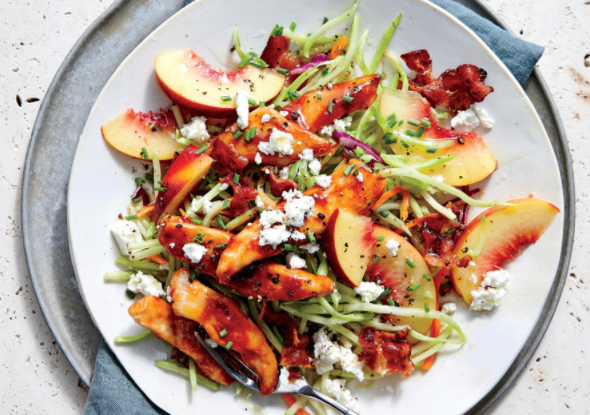 Ingredients:
5 tablespoons olive oil, divided
2 tablespoons sherry vinegar
1/2 teaspoon freshly ground black pepper, divided
3/8 teaspoon kosher salt, divided
1 1/2 cups sliced fresh peaches (about 2 medium)
1 (12-oz.) pkg. broccoli slaw
3 (6-oz.) skinless, boneless chicken breasts, cut crosswise into 1-in. strips
1/4 cup barbecue sauce
1 tablespoon chopped fresh chives
1 ounce feta cheese, crumbled (about 1/4 cup)
2 center-cut bacon slices, cooked and crumbled
Preparation:
Combine 4 tablespoons oil, vinegar, 1/4 teaspoon pepper, and 1/4 teaspoon salt in a large bowl, stirring with a whisk. Add peaches and slaw to vinegar mixture; toss gently to coat.
Sprinkle chicken evenly with remaining 1/4 teaspoon pepper and remaining 1/8 teaspoon salt. Heat remaining 1 tablespoon oil in a large nonstick skillet over medium-high heat. Add chicken to pan; cook 6 minutes or until done. Place chicken in a large bowl. Add barbecue sauce to bowl; toss.
Divide slaw mixture evenly among 4 plates; top evenly with chicken strips. Sprinkle with chives, feta, and bacon.