November's Healthy Recipe: Chocolate Marble Cake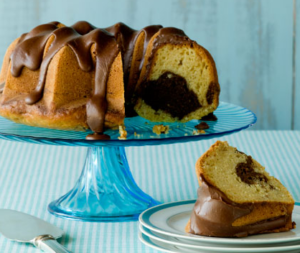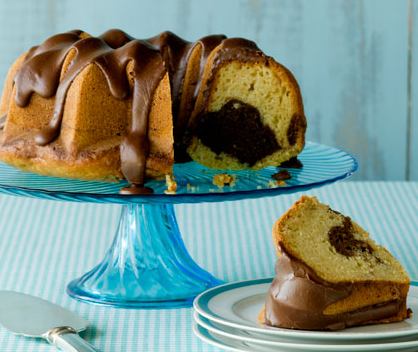 Ingredients (Cake):
Baking spray with flour
1 2/3 cups all-purpose or cake flour
2/3 cup whole-wheat pastry flour
1 1/2 teaspoons baking powder
1/2 teaspoon baking soda
1/4 teaspoon salt
1 cup plus 1 tablespoon sugar, divided
1 cup light sour cream
1/2 cup plain almond milk
1/2 cup applesauce
1/3 cup melted unsalted butter
2 eggs
2 egg whites
1 1/2 teaspoons pure vanilla extract
1 ounce unsweetened chocolate, melted
1 tablespoon unsweetened cocoa powder
Ingredients (Glaze):
1/2 cup powdered sugar
1 tablespoon melted unsalted butter
1 tablespoon warm water
1 tablespoon unsweetened cocoa
Directions:
Preheat oven to 350 degrees F. Coat a 10-inch Bundt cake pan with spray.
Combine flours, baking powder, baking soda, salt, and 1 cup sugar in a large bowl.
Whisk next 7 ingredients (through vanilla) in another large bowl until blended. Add to the dry ingredients and stir with a spatula until just combined.
Transfer 3/4 cup batter to a small bowl and whisk in chocolate, cocoa, and remaining 1 tablespoon sugar. Pour 3 cups white batter into prepared pan.
Dollop chocolate batter over white batter; cover with remaining white batter. Using a knife, swirl batter once in a continuous S – shape around pan.
Bake 55 minutes, until a skewer inserted in the center comes out clean. Cool in pan 10 minutes; invert onto rack and cool completely.
In a bowl, combine glaze ingredients and drizzle over cake. Serve.