March 2015: Healthy Recipe of the Month – Cranberry Buttermilk Scones
March 2015: Healthy Recipe of the Month – Cranberry Buttermilk Scones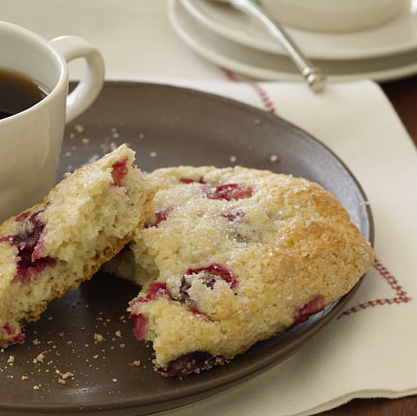 Ingredients
1 1/2 cups all-purpose flour
2/3 cup sugar
2 teaspoons baking powder
1/4 teaspoon baking soda
1/4 teaspoon salt
2 tablespoons chilled unsalted butter, cut into small pieces
1/3 cup low-fat buttermilk, well-shaken
1 large egg, lightly beaten
1/2 teaspoon pure vanilla extract
1 cup fresh or frozen cranberries, thawed
1 egg white, lightly beaten
1 1/2 teaspoons coarse sugar
Preparation
Preheat oven to 400°. Combine first 5 ingredients; cut in butter with pastry blender until mixture resembles a coarse meal.
Whisk together the buttermilk, egg, and vanilla. Add to dry ingredients with cranberries; stir just until moist.
On lightly floured surface, knead dough with floured hands 5 or 6 times; pat into 7-inch round. Cut into 6 wedges; transfer wedges to parchment-lined baking sheet.
Brush tops with egg white, and sprinkle with coarse sugar. Bake 15 minutes or until golden. Let cool on wire rack 10 minutes before serving.