Children's Eye Health and Safety Month: What NJ Parents Should Know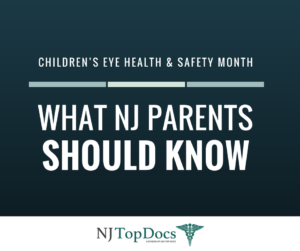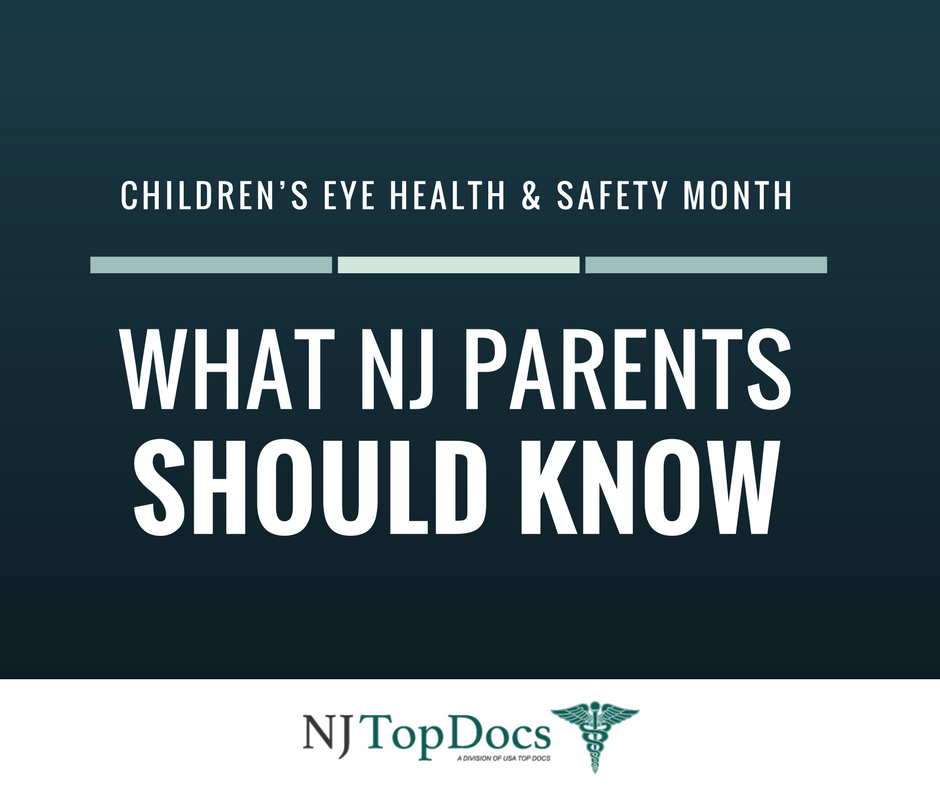 August is Children's Eye Health and Safety Month.  Children's Eye Health and Safety Month began when Prevent Blindness America (PBA) declared the month's recognition in an effort to educate parents on the importance of their children's healthy vision.
NJ Top Docs reached out to a few of our reviewed and approved healthcare providers to see what systems currently exist for protecting our children's vision.
NJ Top Doc, Dr. Benjamin Rosenblum of Advocare Atrium Pediatrics, understands that "as pediatricians the importance of vision screening in very young children to detect early problems that can lead to vision loss. Treating these problems is much easier if you address them before the vision loss occurs.
We can refer such patients to a pediatric ophthalmologist for proper evaluation and treatment. We start formal vision screening on children at one year of age. This is in addition to our examination of the eyes at every preventative care visit starting at birth. We do formal vision screening with instruments that have become available in the last several years.
These instruments allow us to detect potential problems that we are unable to detect with routine physical examinations and at ages before children can read standard eye charts. Thus, these instruments provide an exciting addition to our ability to prevent and detect eye disease in young children."

NJ Top Doc, Dr. Ed Decker MD stresses the importance of eye protection when participating in activities like sports. "By simply wearing sports eyewear like Rec Specs, you can protect your child's eyes from injury and possible loss of vision. I see too many injuries that result in loss of eyesight which could have been prevented."
According to Prevent Blindness America, getting a child's vision tested can lead to greater success in school due to the majority of learning occurring in a visual manner. In fact, some students with learning disabilities may be misdiagnosed and may actually only be suffering from vision problems.
According to NJ Top Doc, Dr. Alon Baker of Advocare Woolwich Pediatrics , his office uses a vision screener which enables him to quickly and easily detect vision issues on patients as young as 6 months of age.
"I would say one of the best ways to promote eye health for children would be to emphasize that children starting kindergarten should have a formal eye examination with either a general ophthalmologist or pediatric ophthalmologist. At this age children with amblyopia and/or strabismus, that was not picked up by their pediatrician, still have plenty of time to address these issues before their visual system is fully developed." – NJ Top Doc, Dr. Christopher R. Bruno of The Eye Center

If you notice your child is frequently rubbing their eyes, squinting, tilting or thrusting their head forward, has trouble reading within a close proximity, or blinks more than usual – be aware that these are all signs that there may be a vision problem. If your child is exhibiting these behaviors, we recommend that you meet with one of our reviewed and approved healthcare providers.
About Us
NJTopDocs.com is a comprehensive, trusted and exclusive  healthcare resource featuring reviewed and approved Top Doctors and Dentists in the New Jersey area online in an easy to use format. NJ Top Docs only reviews and approves providers based on merit after they have been extensively vetted.
NJ Top Docs is a division of USA Top Docs which allows patients to meet providers online before making their appointment.
For more information, e-mail us at [email protected] and/or visit www.NJTopDocs.com.