Healthy Recipe: Spinach & Brie Topped Artichoke Hearts
NJ Top Docs and NJ Top Dentists Are Proud To Present This Month's Healthy Recipe: Spinach & Brie Topped Artichoke Hearts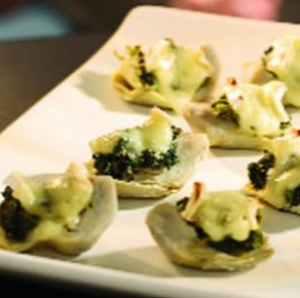 INGREDIENTS
1 9-ounce box frozen artichoke hearts
2/3 cup cooked chopped spinach
1 teaspoon lemon pepper
1/4 teaspoon salt
18 thin slices brie
PREPARATION
Preheat broiler. Prepare artichoke hearts according to package directions.
Combine spinach, lemon pepper and salt in a small bowl. Top each artichoke heart with the spinach mixture and brie. Broil until cheese melts, 1 to 2 minutes.
NUTRITION
Per serving: 20 calories; 1 g fat (1 g sat, 0 g mono); 4 mg cholesterol; 1 g carbohydrates; 0 g added sugars;1 g protein; 1 g fiber; 94 mg sodium; 78 mg potassium.
Nutrition Bonus: Vitamin A, folate, potassium, magnesium.