NJ Top Dentists Presents, Dr. Rupali Wadhwa!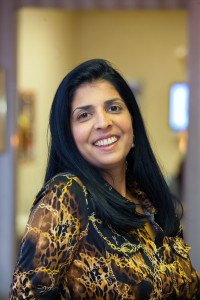 Dr. Rupali Wadhwa opened her private practice after eight years in Pittsburgh as Assistant Professor and Research Director of Orthodontics at the University of Pittsburgh, School Of Dental Medicine.
As a leading orthodontist, Dr. Wadhwa provides diagnosis and treatment planning for patients at all stages of growth and development to permanent dentition.
She works with young children, adolescents and adults.
Each case provides unique challenges and rewards and is given special, individual attention. Just as important, her scientific and artistic command of each procedure provides patients with a unique advantage.
Dr. Wadhwa offers various services and treatments including:
Recent Patient Testimonials:
"Our family has been patients of this practice for over 8 years. Not only have the McLaughlin boys benefited from the superior services of Dr. Kuen and Dr. Wadhwa, but also their parents! From the moment you enter the doors of the office, you feel at home. The staff is friendly and has taken the time to get to know each patient. The office is run professionally and we NEVER WAIT! The staff works as a unit, and we have always trusted in their knowledge and decision making. We can't say enough about Dr. Kuen, Dr.Wadhwa, and the entire group at Morristown Orthodontics. In a world where service standards are often compromised, this practice is an oasis and a treasure!" – McLaughlin Family
---
"I have used Morristown Orthodontics for 5 years and have been very pleased. Unfortunately, I had to get braces as an adult. After much research, I decided to put my trust in Drs. Wadhwa and Kuen. They were accommodating and thorough. There were no surprises in terms of the length of time I would be in braces or in terms of cost. Braces are a big expense and no one wants to do it twice. When it came time to for my kids to start orthodontics, I shopped around again and decided to entrust my children's teeth to Drs Kuen and Wadhwa. They took lots of time at the beginning to really study my kids' mouths and bone development to properly assign a treatment for each of my 2 children. They explained in detail to my husband and me WHY they decided to go with the treatment they recommend based on the kids age and compliance. We already see results.
The payment structure is very clear. No hassles, no hidden fees, no surprises. In fact, I think the amount of time they spend coming up with the treatment plan upfront far exceeds the time spent by other doctors I visited. The office staff is fantastic. They are very accommodating with scheduling. It is a small office so everyone knows your child and any and all questions are answered very promptly and thoroughly.
We are on our third family member with braces with Drs. Kuen and Wadhwa and are pleased with the experience."  – Dierdre
---
"I have been a patient at Morristown Orthodontics PA for the last 6 years. They have successfully treated my son and daughter and are currently treating both my younger daughter and me. All of our cases were challenging and their work has yielded beautiful results. Both Drs. Wadhwa and Kuen are not only expert orthodontist but they also relate well to their patients. As an adult patient in his practice, I feel they have handled my case with sensitivity.  I have found the office staff very accommodating and the referrals made to us for accompanying services have been excellent.  I highly recommend Drs. Wadhwa and Kuen for orthodontic services." – Boysen Family
Dr. Wadhwa is conveniently located in Morristown & South Orange, NJ. For more information and locations you can visit Dr. Wadhwa's full profile at: https://njtopdocs.com/nj-dentists/drrupaliwadhwa/
About Us
NJ Top Dentists is a comprehensive information resource of Top Doctors, Dentists and Hospitals. We are profiling over 900 Healthcare Providers and have made it convenient for you to find them.
NJ Top Dentists allows patients to "meet" these providers online before making their appointment.
For more information, visit www.NJTopDentists.com