Dr. Paul Abend has been reviewed and approved as a NJ Top Doc for 2017!
Dr. Paul Abend has been reviewed and approved as a NJ Top Doc for 2017!
Scotch Plains, NJ – October 10, 2017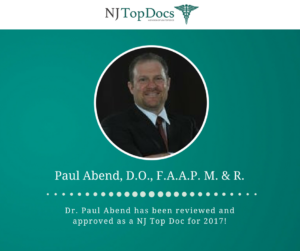 NJ Top Docs has reviewed and approved Paul Abend, D.O., F.A.A.P. M. & R. for 2017!
Dr. Abend has over 25 years of experience in Physiatry, which is a specialty in physical medicine, rehabilitation, and pain medicine. He is double-board certified in Family Medicine and Physical Medicine and Rehabilitation and he maintains 5 office locations throughout Central New Jersey.
He recently opened an Integrative Medical Center with his wife, Dr. Lori Brand Abend, MD (Board Certified and Fellowship Trained under Dr. Andrew Weil) at Sanare Center For Integrative Medicine in Bernardsville, NJ.
Dr. Abend's focus is in non-surgical spinal treatments, sports injuries, post cancer survivorship, balance, and neuropathy. His goal is to eliminate pain, promote mobility, improve movement potential, and provide a better quality of life through effective and proven procedures and treatments.
Currently, Dr. Abend is the Medical Director of Inpatient and Outpatient Services at Robert Wood Johnson University Hospital in Rahway, NJ. He also co-founded the Movement Disorder Center at Robert Wood Johnson University Hospital. Dr. Abend still participates as a teaching preceptor for the Musculoskeletal and Interventional Pain Management program at Kessler Institute – he was one of the 2 original preceptors as it is reaching its 10th year of training.

Dr. Abend maintains faculty positions at Rutgers/RWJ Medical School in the Departments of Medicine and Family Medicine as well as Rutgers/Newark Medical School-Kessler Institute for Rehabilitation Department of Physical Medicine and Rehabilitation.  He is the past President of The New Jersey Society of Medical Specialties and past President of The New Jersey Society of Physical Medicine and Rehabilitation. He is also past President and current Board Member of Rutgers/RWJ Ambulatory Surgical Center in New Brunswick and he's the current President and Board Member of Union County Surgical Center.
As a special interest, Dr. Abend works extensively to help children and adults with Autism.  
Some of his accomplishments in this field include:
Recently launching a Vocational project around farming called Autism Grows Of NJ. The project works with many local restaurants buying organically grown food that was made by adults with special needs. This project ensures that these adults can have a purposeful and meaningful life while contributing to society after they're 21 years old.

Launching an international and national Autism Medical Assessment and Treatment Center of New Jersey. This Autism think tank is a unique non-profit medical center that brought together world renowned medical experts via Tele-Medicine.

Co-Founding the program, Autism Escapes, which is a non-profit network of private jet owners who fly patients with Autism around the country to seek more specialized forms of medical care, at no cost to the patient's families.

Co-Founding the Mount Bethel Village in Warren, NJ, which is a the first supportive residential housing unit for adults with Autism and developmental disabilities.


If you would like to learn more about this reviewed and approved NJ Top Doctor, please click here to view Dr. Abend's online profile.
---
About Us
NJ Top Docs a comprehensive, trusted and exclusive healthcare resource featuring reviewed and approved Top Doctors and Dentists in New Jersey online in an easy to use format. NJ Top Docs only reviews and approves providers based on merit after they have been extensively vetted.
NJ Top Docs is a division of USA Top Docs which allows patients to meet providers online before making their appointment.
For more information, e-mail us at [email protected] and/or visit www.NJTopDocs.com.