NJ Top Doc Approved Jersey City-Based Cardiologist, Dr. Feraydoon Kohan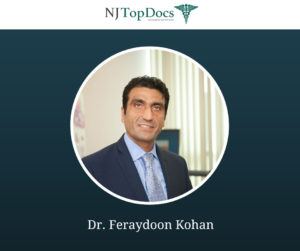 NJ Top Doc Approved Jersey City-Based Cardiologist, Dr. Feraydoon Kohan
NJ Top Docs has reviewed and approved Feraydoon Kohan, MD for 2023. Dr. Kohan is a distinguished cardiologist known for his unwavering commitment to patient well-being. 
With his board certification in cardiovascular disease and a specialized focus in nuclear cardiology, Dr. Kohan emerges as a leading figure in the field, dedicated to providing top-tier healthcare solutions to the community he serves. Affiliated with both the Christ Hospital and the Jersey City Medical Center, Dr. Kohan brings his expertise and compassion to the forefront of heart care.
Dr. Kohan's academic journey began at State University of New York at Brooklyn, where he laid the foundation for his medical career. He completed his internal medicine residency at Rutgers, The State University of New Jersey, where he honed his skills in a dynamic healthcare environment. Subsequently, Dr. Kohan pursued his passion for cardiology, undertaking a comprehensive cardiology fellowship at Rutgers, The State University of New Jersey, where he was recognized as the chief cardiology fellow.
With a profound commitment to his patients' welfare, Dr. Kohan extends his expertise to individuals grappling with various cardiac concerns. These include but are not limited to fainting or syncope, family history of heart issues, high blood pressure or hypertension, chest pain, shortness of breath, and palpitations. His comprehensive range of services encompasses coronary angiography, cardiovascular screenings, carotid Doppler, echocardiogram, holter monitor, nuclear stress test, treadmill stress test, as well as cholesterol and lipids checkups.
In addition to his professional accomplishments, Dr. Kohan's ability to connect with patients from diverse linguistic backgrounds is a testament to his patient-centered approach. Fluent in English, Spanish, and Farsi, he ensures effective communication and fosters a supportive environment for patients to express their concerns openly.
To learn more about Dr. Feraydoon Kohan, please click here. 
---
About Us
NJ Top Docs is a comprehensive, trusted and exclusive healthcare resource featuring reviewed and approved Top Doctors and Dentists in New Jersey online in an easy to use format. NJ Top Docs only reviews and approves providers based on merit after they have been extensively vetted.
NJ Top Docs is a division of USA Top Docs which allows patients to meet providers online before making their appointment.
For more information, please click here to contact us or visit www.NJTopDocs.com.