Dr. David Chalnick Celebrates 2 Years as A NJ Top Doc!
Dr. David Chalnick Celebrates 2 Years as A NJ Top Doc!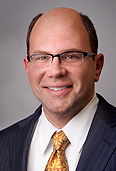 At Shore Orthopaedic Group, their distinguished team of experienced, board-certified orthopedic surgeons is dedicated to helping their patients keep their body's musculoskeletal system in the best possible working condition; returning them to the freedom of an active, pain-free lifestyle at any age. The physicians are dedicated to being the top skilled surgeons in the orthopedics field, and combine their technical expertise with attentive, professional and responsive care for all their patients. Whether a patient needs treatment for tennis elbow, lower back pain, a dislocated shoulder, or stress fractures in the foot, Shore Orthopaedic Group will not rest until the patient receives the best care.
Dr. Chalnick is Fellowship trained in Adult Reconstruction and Sports Medicine. He became interested in a career as an orthopaedic surgeon and specifically a joint replacement surgeon as a bioengineering major at the University of Pennsylvania in Philadelphia. He then attended the University of Medicine and Dentistry of New Jersey's New Jersey Medical School and Graduated Alpha Omega Alpha.
After medical school, Dr. Chalnick completed his internship and residency at Albany Medical Center in Albany, New York at the Insall Scott Kelly Institute in NY, NY. He completed a yearlong fellowship in adult reconstruction and gained subspecialty training in knee and hip total joint replacement and revision surgery and sports medicine.
Dr. Chalnick has offices in Lakewood, NJ and Tinton Falls, NJ.
To learn more about Dr. Chalnick, please visit his full online profile here:
https://njtopdocs.com/nj-doctors/david-lee-chalnick-md/