NJ Top Doc, Dr. Rolando L. deGoma Takes On An Active Role In Preventive Cardiology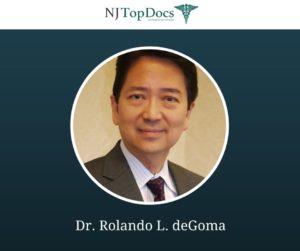 NJ Top Doc, Dr. Rolando L. deGoma Takes On An Active Role In Preventive Cardiology
Dr. Rolando L. deGoma's practice, Princeton Preventive Cardiology merged with a larger group, Capital Cardiology Associates, in August of 2018. Capital Cardiology is now the only full service group in the tri-state region that offers preventive cardiology and advanced lipid clinic services to their patients with proven improved clinical outcomes while lowering healthcare cost.
NJ Top Doc, Dr. deGoma is a triple board certified cardiologist with certifications in Internal Medicine, Cardiovascular Disease and Clinical Lipidologist. He has over 40 years of clinical experience with the last 20 years primarily focused on saving lives by stopping heart attacks and strokes before they happen. He does this by identifying patients with many plaques earlier, through the use of coronary calcium scoring and then Dr. deGoma uses the most advanced evidence-based medical therapy to stop plaque progression, prevent plaque rupture, and induce plaque regression – a form of disease reversal.
The L-TAP Study in 2001 was a nationwide survey to determine how well physicians were treating their high risk patients with previous heart attacks in accordance with the NCEP ATP III guidelines. Physicians failed – only 18% of patients were treated to an LDL cholesterol of less than 100 mg/dL and 82% were either treated inadequately or not at all. 
This study was the inspiration to develop Dr. deGoma's care innovations – his unique PaKS approach to prevention. Pa for passion for prevention; K for a good working knowledge of clinical lipidology; and S for a numerically goal-oriented clinical management system.
Dr. deGoma's efforts culminated in the publication of his practice performance data in 2006 with 85% of high risk patients successfully treated to an LDL cholesterol goal of less than 100 mg/dL and 32% to less than 70 mg/dL.  Heart attack, stroke, and the need for stent and heart bypass surgery declined progressively.  
In 2016, Dr. deGoma's second performance data was published with 89% reaching LDL cholesterol goal of less 100 mg/dL and 51% were less than 70 mg/dL.  Both of which are the best published performance data in the US.
"When I started practicing cardiology, I joined the American Heart Association and the American College of Cardiology in fighting to end cardiovascular disease. There have been a lot of scientific achievements to reach the goal of preventing most heart attacks and strokes by the end of the 20th century.  But a large cardiovascular healthcare industry has grown and prospered, catering to what are now considered largely preventable heart attacks and strokes. While the American public is ready to stop heart attacks and strokes before they happen, hospitals are not ready to give up the revenues generated by the number 1 public health problem in the US. But ready or not, the inevitable will come, probably sooner than later," says Dr. deGoma.
The American Heart Association estimated that every year, over 700,000 Americans will have their first heart attack, not included are those who will have their first stroke. 
Dr. deGoma launched his public service campaign in 2019 called "Save Your Heart" to call on this preventable major health crisis that kills and disables hundreds of thousands of unsuspecting Americans every year. 
To learn more about Dr. Ronaldo L. deGoma and his active work with preventative cardiology, please click here to view his NJ Top Docs webpage or visit his direct webpage at  www.deGomaMD.com. 
You can also learn more about his public service campaign here:  www.SaveYourHeartCampaign.org.
---
About Us
NJ Top Docs is a comprehensive, trusted and exclusive healthcare resource featuring reviewed and approved Top Doctors and Dentists in New Jersey online in an easy to use format. NJ Top Docs only reviews and approves providers based on merit after they have been extensively vetted.
NJ Top Docs is a division of USA Top Docs which allows patients to meet providers online before making their appointment.
For more information, please click here to contact us or visit www.NJTopDocs.com.
You can also follow us on Facebook, Twitter, & Instagram.