NJ Top Docs Presents Paul Kovatis, MD
NJ Top Docs Presents Paul Kovatis, MD
Scotch Plains, New Jersey – September 5, 2017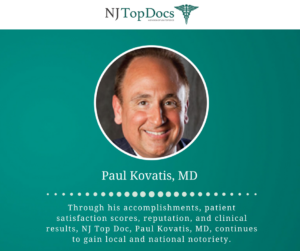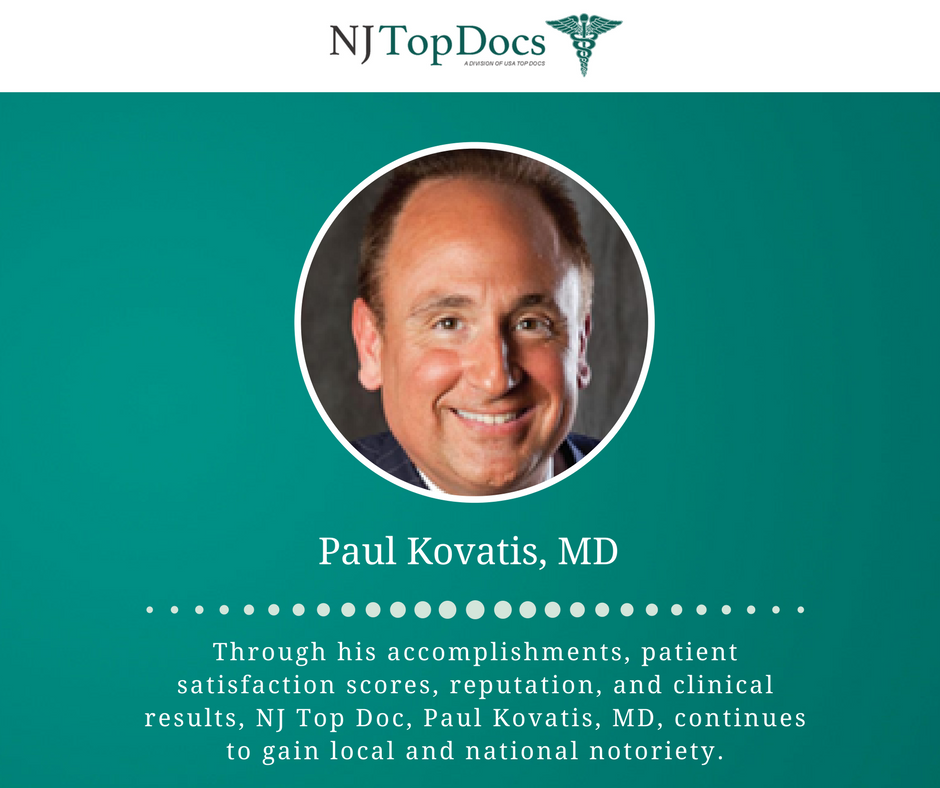 Through his accomplishments, patient satisfaction scores, reputation, and clinical results, NJ Top Doc, Paul Kovatis, MD, continues to gain local and national notoriety. Dr. Kovatis is a Hospital for Special Surgery Fellowship trained orthopedic surgeon and is the Chair of the Leg, Ankle, and Foot Section of the Department of Orthopedic Surgery at Hackensack University Medical Center.
Serving as an Alumni Lecturer at the Hospital for Special Surgery (HSS) in New York, he instructs the orthopedic residents and fellows at various labs and teaching venues.
During his tenure at HSS, Dr. Kovatis assisted numerous medical teams, which treated both local and national professional athletes. Dr. Kovatis continues to treat both retired and active athletes, in addition to the proverbial weekend warrior. It is worth noting that the New York Mets invited him to throw out their ceremonial "First Pitch" (a perfect strike!) as a thank you for his service.
As a result of his work with professional sports figures, he has become a philanthropist with the Carlos Beltran Baseball School in the town of Florida in Puerto Rico, where he attends annual instructional and philanthropic functions regarding the construction of this unique academic and sports facility.
Dr. Kovatis is the only current fellowship trained orthopedic surgeon at Hackensack UMC performing total ankle replacements. For two decades 1dr. Kovatis has been the mainstay of this underserved orthopedic subspecialty. Dr. Kovatis is often referred challenging and complex cases from local and distant emergency rooms, as well as primary and tertiary centers – which now extend from the Jersey Shore to the Poconos.
Dr. Kovats is best known for his work, clinical results, and patient satisfaction in regards to very difficult, complex fractures and trauma of the lower extremity.
As both an orthopedic surgeon and leader of his peers, Dr. Kovatis served as the President and Chairman of the Medical Board and Medical Staff of the Hackensack UMC, adjudicating the complex policies and constitutional procedures of the number one ranked hospital in New Jersey.
For over a decade, Dr. Kovatis has served on the Medical Center's Board of Governors, Board of Trustees, Credentials Committee, was the Chairman of the Quality and Patient Safety Committee, as well as holding numerous other positions selected by merit and professional reputation.
As a Top Doctor recipient for several years, also serving on the Advisory Board of Top Doctors and an orthopedic advisor for the Hackensack UMC Wellness Center, Dr. Kovatis has peer reviewed national and international publications. Remaining a passionate patient advocate, he often counsels new patients on the risks, benefits, realistic expectations, and potential pitfalls of numerous new but often unproven technologies.
His philanthropy includes donating VIP seats for Mets baseball games and Jets football tickets to the Tomorrow's Children Fund for Kids with Cancer as well as the US Navy Seals Foundation and the Wounded Warriors Foundation. Dr. Kovatis is patriotic and has a military passion rooted from his military family's history. Especially in regards to his father, the late Colonel Peter Kovatis, a member of the Original Flyer Tigers and five other immediate family members buried with Purple Heart honors in Arlington National Cemetery. Dr. Kovatis has also attended and spoken at Walter Reed Medical Center on orthopedic injuries focusing on the potential use of battlefield techniques in the civilian population.
To learn more about Dr. Paul Kovatis, please click here to visit his customized NJ Top Doc webpage.
---
About Us
NJTopDocs.com is a comprehensive, trusted and exclusive  healthcare resource featuring reviewed and approved Top Doctors and Dentists in the New Jersey area online in an easy to use format. NJ Top Docs only reviews and approves providers based on merit after they have been extensively vetted.
NJ Top Docs is a division of USA Top Docs which allows patients to meet providers online before making their appointment.
For more information, e-mail us at [email protected] and/or visit www.NJTopDocs.com.