NJ Top Docs Presents, Dr. Aleya Salam!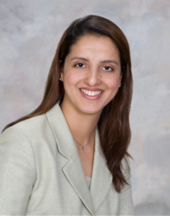 MidJersey Orthopaedics is a full-service, multi-specialty practice featuring regionally renowned physicians and surgeons.  Their specialists are Board-Certified and Fellowship trained across all musculoskeletal disciplines and have all the technology and resources needed to examine, diagnose and treat their patients.
Dr. Aleya Salam is in tune with traditional and alternative pain options and encourages earlier treatment for pain.
Aleya Salam, M.D. trained at King Edward Medical College, UMDNJ/Kessler Institute of Physical Medicine & Rehabilitation, and at the University of Pennsylvania.  She is board certified in Physical Medicine & Rehabilitation.  She is a member of the following:
American Academy of Physical Medicine & Rehabilitation (AAPM&R)
New Jersey Society for Pain Management & Rehabilitation
North American Spine Society (NASS)
International Spine Intervention Society (ISIS)
Dr. Salam Offers the Following Non-Surgical Procedures
*Please note that Dr. Salam only sees patients at the Pavilion Location.
Herniated Disc In Neck and Back
Cervical Injections
Thoracic Injections
Lumbar Injections
Facet Joint Inflammation
Radiofrequency Ablation/Rhizotomy
Percutaneous Disc Decompression
Vertebral Compression Fractures
Lumbar Discogram
Electromyography (EMG)
Sacroiliac Joint Injections
Spinal Cord Stimulation
Peripheral Nerve Stimulation
Piriformis Syndrome
Non-Surgical Orthopedics
Dr. Aleya Salam is conveniently located in Flemington, NJ & Somerville, NJ.  For more information on the practice, please follow the link below to view their online profile:
https://njtopdocs.com/nj-doctors/draleyasalam/
About Us
NJ Top Docs is a comprehensive information resource of Top Doctors, Dentists and Hospitals. We are profiling over 900 Healthcare Providers and have made it convenient for you to find them.
NJ Top Docs allows patients to "meet" these providers online before making their appointment.
For more information, visit www.NJTopDocs.com.