NJ Top Dentists Presents, Dr. Joel Okon!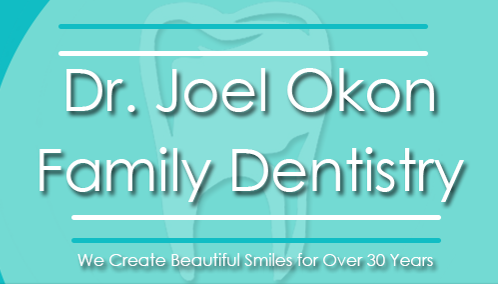 Dr. Joel Okon Family Dentistry opened in 1978 to provide excellent dental care in a family environment.  Through the years, their locally-owned and operated office has continued to provide beautiful smiles by offering great care.
Keep your smile beautiful and healthy by receiving dental services from Dr. Joel Okon Family Dentistry.  Their dental office in Lindenwold, New Jersey, provides multiple facets of cosmetic and preventive dental care for a gorgeous smile.
Their dentists are trained to diagnose, treat, and prevent diseases of the gums, teeth, and jaw.  They also provide cosmetic services such as veneers, implant restorations, dentures, crowns, and bridges.  In addition, to brighten your smile, they offer at-home whitening trays.
Each of their dental services is completed with the best workmanship and at the most reasonable prices.  However, they also offer in-house discount plans for people without insurance.
Dr. Joel Okon Family Dentistry protects your smile by providing preventative exams and other dental care services.  Having a routine exam ensures that you have a healthy smile.
Dental Exams
With two full-time dental hygienists on staff, they perform a full comprehensive dental exam.  In addition, they provide complete comprehensive periodontal exams and scaling, when necessary  During your dental exam, they also complete a head and neck cancer screening.

Cavities
When a cavity is found during a dental exam, they perform fillings or root canals.  They offer white fillings using composite resin to provide a more natural look when compared to other fillings.  However, for severe cavities, they perform a root canal and add a crown to protect the remaining tooth.
Dr. Okon is conveniently located in Lindenwold. For more information and locations you can visit Dr. Okon's full profile at http://www.njtopdocs.com/joelokondds.
About Us
NJ Top Dentists is a comprehensive information resource of Top Doctors, Dentists and Hospitals. We are profiling over 900 Healthcare Providers and have made it convenient for you to find them.
NJ Top Dentists allows patients to "meet" these providers online before making their appointment.
For more information, visit www.NJTopDocs.com.