March is Problem Gambling Awareness Month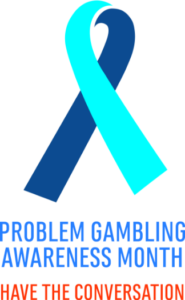 Problem gambling, like any other addiction, is a cycle that pushes the victim further and further into a deep, dark, troubled actuality. Rare instances show gambling addicts needing constant monitoring, unable to control themselves. The impulse developed in the brain after placing excessive bets will unavoidably take more time and money, with players losing sight of their priorities and finding themselves unable to assess the consequences of their actions correctly. The cure to problem gambling is gambling awareness practiced through responsible gaming. Knowing the risks and being aware of yourself and of your attitude towards betting will save you from risking your future.
The following are general stages that create the cycle of compulsive betting:
1. Wrong ideas about how gambling will change your life will shape how you look at the habit. If you see it as a money-making scheme, as a way to make quick money, then you are doomed to proceed to the next stages. Others gamble to escape uncomfortable emotions which confuse the brain to interpret betting as a source of happiness until it eventually becomes your ONLY source of positive feelings. Betting should be a recreational activity, but it ceases to be a game when seen as a source of money or as an escape.
2. Yes, you are bound to win once, and if your head is not set on straight about the limits of gambling, then this can push you deeper into the game. Winning a game after losing 50 bets is not the way to make money, and such an interpretation is reflective of the misconceptions believed by the player. This is a trap that sets your greed and aims it at a jackpot that is not likely to happen.
3. The odds are not in your favor – such is the reality of life and gambling. Losing streaks are common, and if you do not take the hint and continue to play, then you are on your way towards a difficult situation. Therefore, discipline and the right mindset becomes important in gambling, so self-control can be restored when things are going downhill. Misinformed players will continue to play more, deluding themselves that the jackpot will be at the end of the tunnel. Responsible gamblers, however, understand that you lose more than you win at gambling. The latter will resume his normal activities while the former will stay preoccupied with finally getting that win.
4. With the losing streak that the player will be experiencing, the financial problems start raising their alarms. Constant losses mean losing money, and when you're wasting money, you do not recover it by borrowing so you can gamble more. Chasing losses mean trying to earn back all the money spent by gambling more. This part is devoid of logic, as gamblers no longer think about priorities and responsibilities but instead respond to impulses. Players who panic after realizing all the money lost start to drown from desperation. It would have been well and good if misery brought them to take a part-time job. Unfortunately, problem gamblers channel their desperation and negative emotions by gambling more.
5. A game of chance does not give consideration to how desperate a person feels. This stage gives way to the possibility of mental stress and financial drain. More losses will force a gambler to rethink his actions, and because he is no longer capable of drawing out logical conclusions, he ends up going back to stage 1.
The cycle of extreme gambling can be resolved by removing fallacies. Such wrong ideas are corrected when there is a loud and resounding gambling awareness campaign. It is imperative that people have a clear vision of what gambling is and what it is not, lest you want problem gambling as a foreseeable dilemma in the future. Knowledge is power; coupled with discipline, the proper attitude, and the right mindset; gambling is unlikely to become a threat. Reaching out to an awareness group or campaign can help educate the general public and healthcare professionals about the warning signs of problem gambling and to raise awareness about the help that is available both locally and nationally. There is also a 24 hour confidential national helpline that can be called or texted at 1-800-522-4700.
Sources:
http://npgam.org/
About Us
NJTopDocs.com is a comprehensive information resource of Top Doctors, Dentists and Hospitals. We are profiling over 900 Healthcare Providers and have made it convenient for you to find them.
NJTopDocs.com allows patients to "meet" these providers online before making their appointment.
For more information, please visit www.NJTopDocs.com.
You can also follow us on Facebook – Twitter – YouTube