Central Jersey's Teddy L. Atik, M.D., Is a Top Doctor!
Central Jersey's Teddy L. Atik, M.D., Is a Top Doctor!
Scotch Plains, NJ – May 16, 2017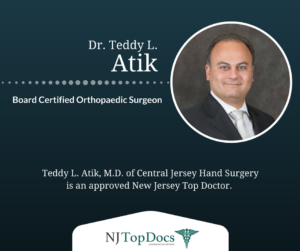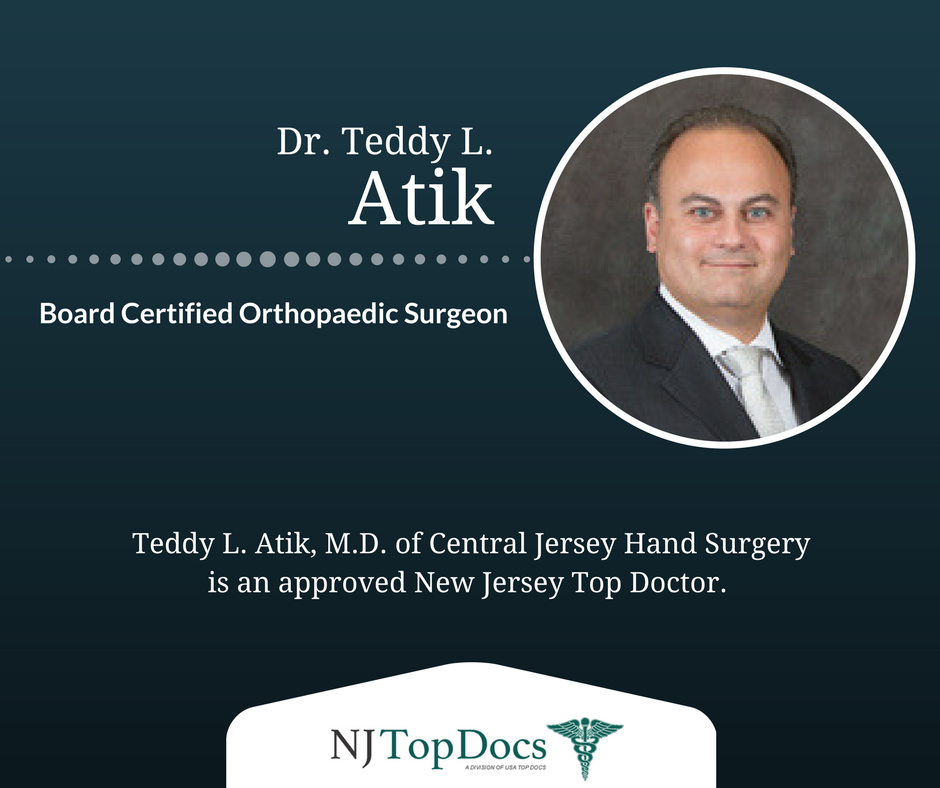 Teddy L. Atik, M.D. of Central Jersey Hand Surgery is an approved New Jersey Top Doctor.
Dr. Atik has offices located in Eatontown, Freehold, and Toms River where his practice dedicates itself to problems of the hand, wrist, forearm, elbow, and microsurgery.
Teddy L. Atik M.D. specializes in minimally invasive procedures including:
Single Incision Endoscopic Carpal Tunnel Surgery
Trigger Finger Release
Endoscopic Cubital Tunnel Release
Needle Aponeurotomy for Dupuytren's Contracture

Atik is actually one of seven surgeons in the US who received training in France from the doctor who invented this procedure!

Arthroscopic Wrist Surgery
Small Incision Fixation of Hand and Wrist Fractures.
Dr. Atik is Board Certified in Orthopaedic Surgery and is affiliated with a multitude of hospitals and surgical centers throughout New Jersey.
Atik is also a dedicated member of the American Society for Surgery of the Hand, the American Association for Hand Surgery, the American Academy of Orthopaedic Surgeons, the New York Hand Society, the Philadelphia Hand Society, the Eastern Othopaedic Association, Steel City Hand Club, the Medical Society of New Jersey, and the American Medical Association.
To learn more about Teddy L. Atik, M.D. and his specialties please visit his profile on our site by clicking this link.
More information about the common conditions Dr. Atik treats and the type of insurance he accepts is available on his profile.
About Us
NJTopDocs.com is a comprehensive and informational resource of Top Doctors, Dentists and Hospitals. We profile over 900 healthcare providers and have made it our mission to provide a convenient hub for your locating needs.
NJTopDocs.com allows patients to "meet" these providers online before making their appointment.
For more information, e-mail us at [email protected] and/or visit www.NJTopDocs.com.